Following the events on January 6th, the Democrats completely attacked, vilified, and destroyed the protestors who showed up to Capitol Hill to reject the 2020 election results. Even though it has almost been a year since the election, investigations, lawsuits, and inquires are still being made. But to the Democrats, Joe Biden not only beat Trump but somehow did it in historic fashion. And with them controlling Washington, they threw the entire justice system at over 400 protestors who have been charged. With key Republicans suggesting January 6th detainees are being mistreated and labeled terrorists, the Democrats assure that they are being treated humanely. But behind the party and their agenda is Deputy Warden at the Department of Corrections in the District of Columbia, Kathleen Landerkin. And while many of the defendants are under her control, she apparently has a social media full of Trump-hating material. 
Tired of the ads? Go Ad-Free and Get EXCLUSIVE Content, Become a PREMIUM USER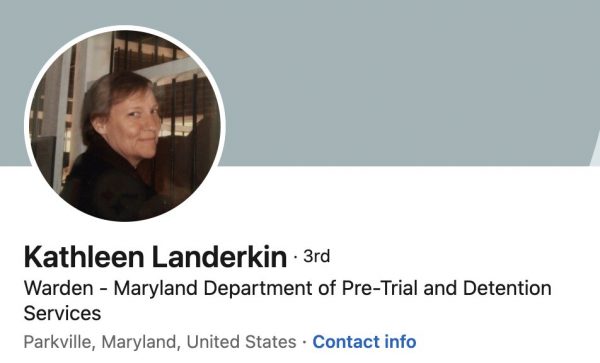 Having controlling power over many of the Capitol Hill inmates, Congresswoman Marjorie Taylor Greene tweeted Landerkin, "You are responsible for human rights violations in the DC Jail and torture and abuse of pre-trial defendants." Not just making accusations, Rep. Greene was sure to include evidence showing Landerkin's social media post where she wrote, "F**k everyone who supports Trump."
< Sign The Petition: Unmask Our Children! >
Good morning Deputy Warden @awkathyjo,

How's the DC Gulag this morning?

You are responsible for human rights violations in the DC Jail and torture and abuse of pre-trial defendants.

It's clearly bc of your extreme political views.

But you're not alone, many are guilty too. pic.twitter.com/NVUlTGl6Wb

— Marjorie Taylor Greene 🇺🇸 (@mtgreenee) December 11, 2021
But one post isn't a lot until the CEO of XStrategies, Alex Brusewitz, performed an advanced search of the word "Trump" on Landerkin's Twitter account. More than a dozen results came up with one reading, "The Trump family is a crime family and the GOP in [sic] complicit," and "Trump is doing more damage to this country then [sic] foreign terrorists ever have."
Droves of anti-Trump & anti-republican tweets from the Deputy Warden of the DC Jail where all of the protesters from J6 are being held in AWFUL conditions.@awkathyjo is responsible for GRAVE human rights violations and she must be held accountable immediately.

Watch & RT! pic.twitter.com/mTn3KSk569

— Alex Bruesewitz (@alexbruesewitz) December 11, 2021
Using the same vocabulary as the 2016 presidential candidate Hillary Clinton, Landerkin also labeled Trump supporters as deplorables. It didn't remotely stop there as she would even suggest that white men are more dangerous than immigrants.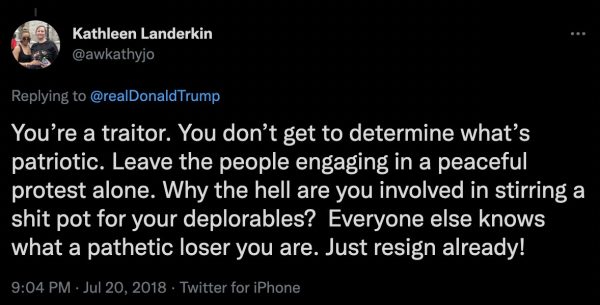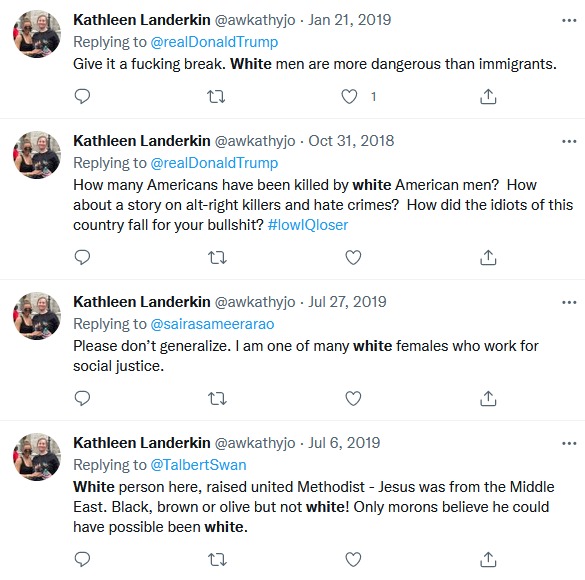 Obviously upset by the fact that Hillary lost the election that she was projected to win by almost every poll, she wrote that Trump didn't win the popular vote and even suggested the electoral college be abolished. 
Looking past her social media, apparently, Landerkin is so adamant about her hatred for Trump supporters that she even covered her Jeep in stickers depicting Trump in a diaper, the American flag turned upside down, and a resist sticker.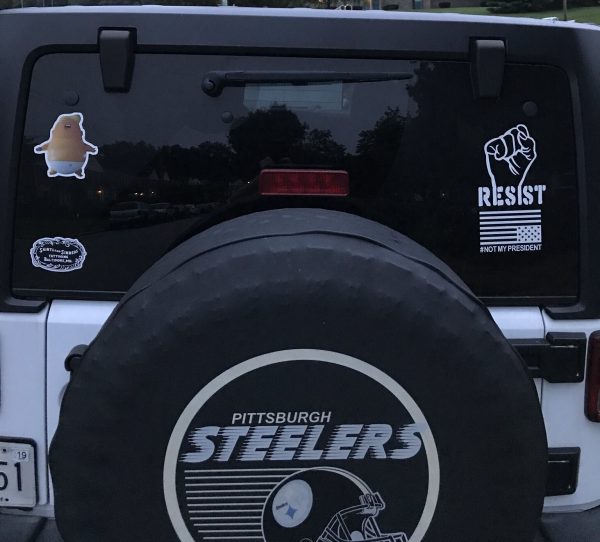 Thankfully, the inmates are being transferred to other facilities as the U.S. Marshal's Service found "evidence of systemic failures" and a majority of them staying in unacceptable living conditions.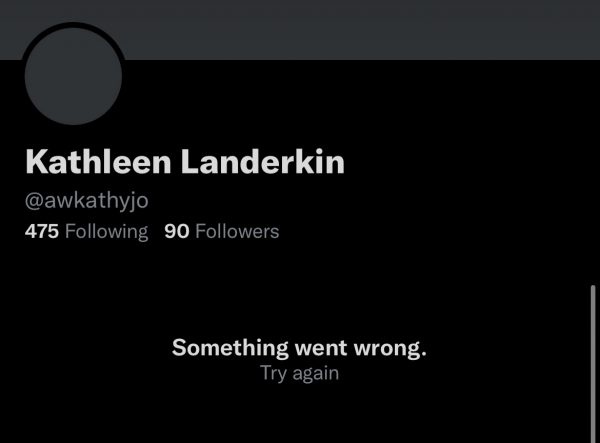 As for Landerkin, her bold stance on social media mysteriously disappeared overnight as her Twitter account was deleted. 
The opinions expressed by contributors and/or content partners are their own and do not necessarily reflect the views of Red Voice Media. Contact us for guidelines on submitting your own commentary.